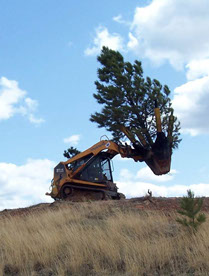 Woodland Trees, Inc. was established February 28, 1979 by David "Scott" Beilhartz's father, William "Bill" Beilhartz and uncle, Robert "Bob" Beilhartz.
Scott Beilhartz started working full time for Woodland Trees, Inc. in June 1982. By 1986 he had taken over the field operation of the company and gained ownership in the company by 1990. Scott has operated the business along with his father up until 2011. Keeping with the family business theme he remains president running the daily operations along with his wife Debby, who assists in sales and the operational functions of the business.
Scott is a fourth generation Beilhartz to remain in the nursery industry. The roots of the family businesses date back to the 1800's beginning with Scott's great-grandfather, William Harvey Beilhartz who started The Beilhartz Nursery in Denver, Colorado. Matthew Beilhartz, Scott's grandfather opened Tower Nursery which was one of the largest nursery/garden centers in the Denver Metro area in 1942. Both Bill and Bob Beilhartz were born and raised at Tower Nursery working there until establishing their own prodigy, Woodland Trees, Inc. Scott like his father and uncle was raised at Tower Nursery running equipment at an early age. He continued to learn the tricks of the trade while working for his father and uncle at Woodland Trees, Inc. throughout his youth.